Artist Statement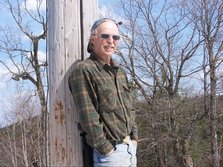 Since developing my art in 1970, my work has evolved from smaller, framed works to the large, free-form sculptural pieces they are now. The medium is wood; however, the wood I use has been weathered by time and the elements, giving it an endless change of shadows, light and color. The aging of wood, usually thought to be unfortunate, is really nature's triumph and worth regarding with the same artistic vision.

The weathered wood I use in my work is from early American barns, many of which are in excess of 100 years old. I start with a sketch on paper, then transfer the design to pieces of wood that have varying colors and textures. Every piece is cut freehand on a band-saw. Using the grain and different colors of wood, each scene is meticulously fit together, forming what "appears" to be a three-dimensional interpretation.

My inspiration for this work originates from architecture I have seen, and from a desire to portray the character of these early American structures. Eric Sloane wrote about our vanishing barns in North America, and like his, I hope my work will help preserve the integrity of these fine buildings for generations to come. Every piece of wood I use in creating these scenes has a history. Please feel free to ask about their origin.
---
As Seen in the New York Times
Get a behind-the-scenes look into John's workshop as he handcrafts the logo art for Broadway's PETER AND THE STARCATCHER.